News
Now available: In stores and on all common streaming platforms:
Russian Roots – Works by Shostakovich, Rachmaninov, Beethoven, Weinberg and others
Katharina Konradi and the Trio Gaspard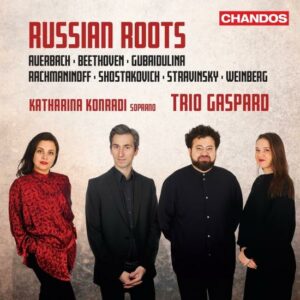 Trailer:

Biography
Katharina Konradi was born in Bischkek, Kyrgyzstan, and is the first soprano from this country to have an international career as a lied, concert and opera singer. She made her debut as Ännchen in Weber's Der Freischütz at the Hamburg State Opera in 2018 and has since been a member of the regular ensemble there. Before then she was under contract for three years at the Hessisches Staatstheater Wiesbaden. She sings the major soprano roles and it was not long before other renowned opera houses offered her engagements,
for instance as Zdenka in Arabella by Richard Strauss at the Semperoper in Dresden (2018/19), as the young shepherd in the production of Tannhäuser at the Bayreuth Festival (2019 and 2021) and as Sophie in Der Rosenkavalier conducted by Vladimir Jurowski, directed by Barry Kosky at the Bavarian State Opera in Munich (2020/2021). Besides singing in productions at her home opera house, the Hamburg State Opera, Katharina Konradi returns to the Bavarian State Opera in the 2021/22 season, again to sing Sophie, as well as Susanna in Le Nozze di Figaro.
Contact
GENERALMANAGEMENT:

Künstlersekretariat am Gasteig
www.ks-gasteig.de
Elisabeth Ehlers
E-Mail: Elisabeth.Ehlers@ks-gasteig.de
Tel: +49 89 44488790
PR-MANAGEMENT:
for artists GmbH & Co. KG
https://forartists.de/
Martina von Brüning
E-Mail: martina.vonbruening@forartists.de
Tel: +49 30 644752 43
Get in touch with me