News
»Geschmacksvergleich«
"Was Gott tut, das ist wohlgetan" (BWV 98,99 & 100)
Concert recording from June 20th, 2021 with the Gaechinger Cantorey under the direction of Hans-Christoph Rademann
Now available: In stores and on all common streaming platforms:
"Liebende" – Songs by Strauss, Mozart and Schubert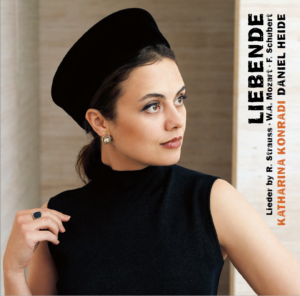 ---
Watch here the trailer:

Biography
Katharina Konradi was born in Bischkek, Kyrgyzstan and is the first soprano from this country to have an international career as a lied, concert and opera singer. In 2009 she began her singing training with Julie Kaufmann in Berlin and subsequently completed her master's degree in lied interpretation with Christiane Iven and Donald Sulzen at the Munich Academy of Music and Theatre. Attending masterclasses by Helmut Deutsch and Klesie Kelly-Moog gave Katharina Konradi's career as a soprano further musical and artistic momentum. In 2015 Katharina Konradi became a member of the ensemble of the Hessen State Theatre in Wiesbaden for three years, where she sang many important soprano roles, including Pamina, Gretel, Adele, Susanna, Zerlina and Nannetta.
Following her remarkable debut in Hamburg, singing Ännchen in Weber's Der Freischütz, Katharina Konradi joined the ensemble of the Hamburg State Opera at the beginning of the 2018/19 season. In the same season she made her debut as Zdenka in Arabella by Richard Strauss at the Semperoper in Dresden. In spring 2021 the artist will make her debut as Sophie in the new production Der Rosenkavalier by R. Strauss (Staging: Barrie Kosky) at the Bavarian State Opera (Munich). In summer 2021 she will return to the Bayreuth Festival in the role of the Young Sheperd in Richard Wagners Tannhäuser (Staging: Tobias Kratzer).
Contact
GENERALMANAGEMENT:

Künstlersekretariat am Gasteig
www.ks-gasteig.de
Elisabeth Ehlers
E-Mail: Elisabeth.Ehlers@ks-gasteig.de
Tel: +49 89 44488790
PR-MANAGEMENT:
for artists GmbH & Co. KG
https://forartists.de/
Ulrike Gratz
E-Mail: ulrike.gratz@forartists.de
Tel: +49 30 644752 44
Get in touch with me